Marvelous Mahogany: Why You Should Consider This Distinctive Wood for Your Shelving Needs
Sure, we've spoken at length about the pros of considering oak wood for your floating shelf needs...but what about mahogany?
From its rich warm hues to its captivating grain pattern, mahogany wood has been the discerning choice for furniture makers since the 1500s. But what makes mahogany wood so special? And why should you consider choosing it for your floating shelf? We have all the answers and more below, so read on to find out!
What is Mahogany?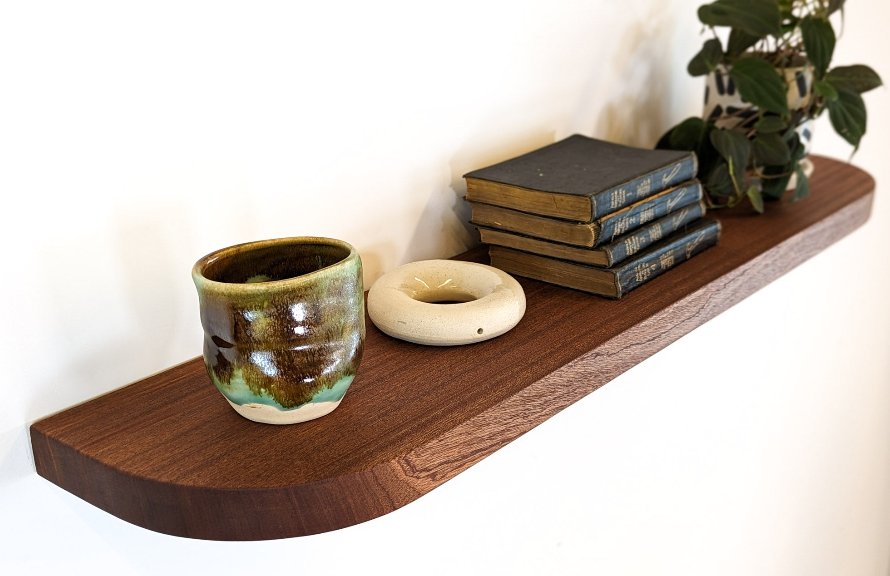 As you might imagine, genuine mahogany is a type of wood that can be used across the board for everything from cabinet making to floating shelves, flooring, and more. It comes from not one but three types of tree species: the West Indian (or, Cuban Mahogany), the Honduran (or, Big Leaf Mahogany), and the Swietena humilus.
These three tree species are primarily found in tropical areas of the world such as South Florida, Brazil, Mexico, and the Caribbean. In both Belize and the Dominican Republic, mahogany is considered the national tree.
The wood is known for its dark red hue, which makes it a popular choice among furniture makers. It is also very durable and resistant to rot, which means it can be used outdoors on decks or patios without worry of rain damage over time. The three types of mahogany are all similar in color, but their grain patterns differ slightly.
Why Are Mahogany Floating Wall Shelves So Marvelous?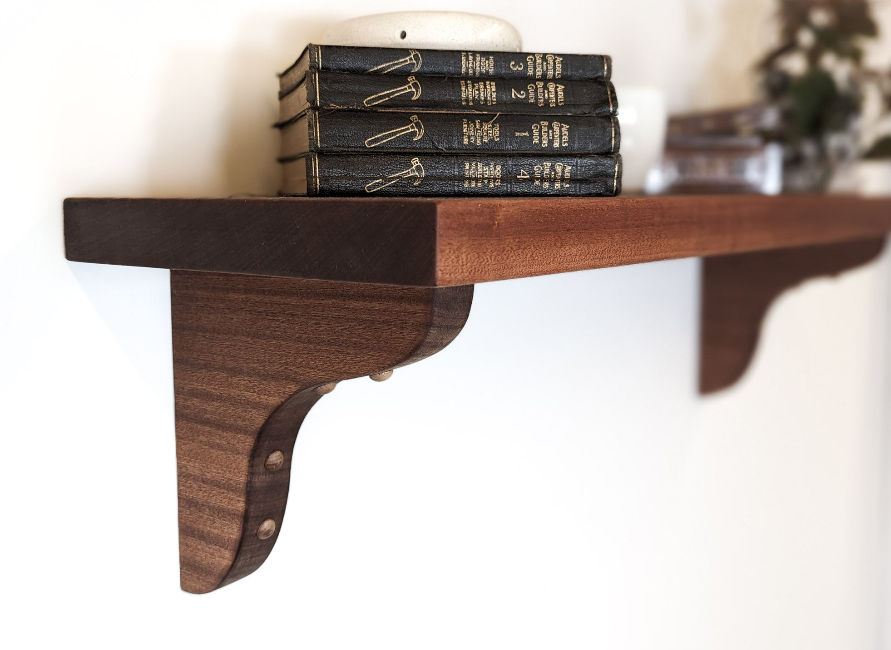 Mahogany floating shelves offer a unique and stylish way to display your favorite items while adding a touch of elegance to any room on top of that, you can expect to benefit from any number of the following characteristics.
Mahogany Shelves Are Beautiful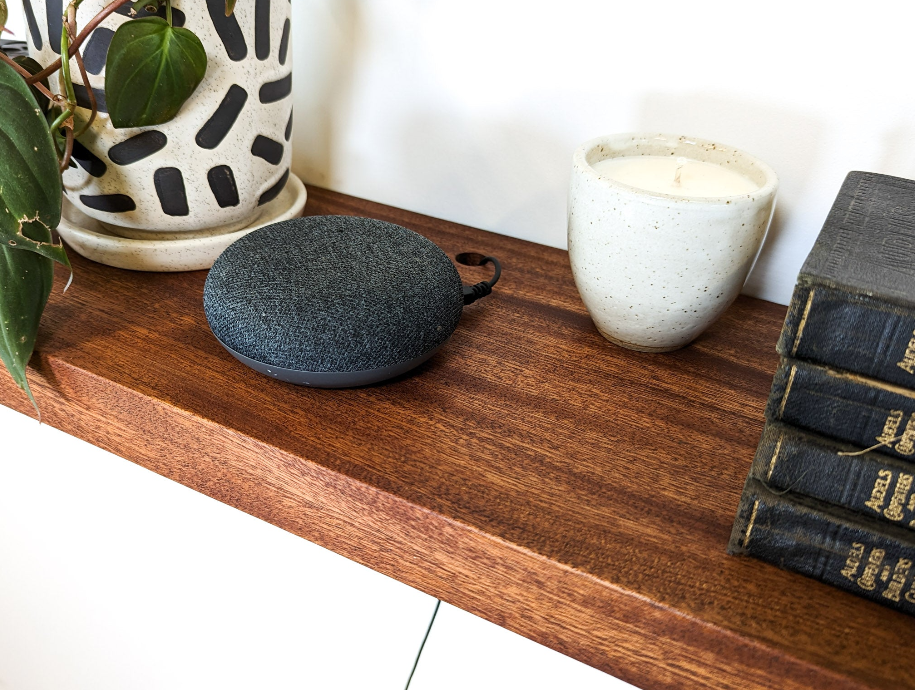 Sure, it may seem obvious, but we just can't get over the distinctive visual appeal that mahogany wall shelves add to a wall. The warm, reddish-brown hues of mahogany instantly elevate any space and effortlessly exude elegance and sophistication.
As Ron Burgundy famously said, "My apartment smells of rich mahogany." And oh, how true that is. The rich scent of mahogany permeates the air, creating an ambiance that is both comforting and luxurious. In fact, Ron Burgandy wasn't bluffing, some types of mahogany smell so good they are often used to add spicy rich notes to perfumes.
But beyond its olfactory allure, mahogany is a sight to behold. Its many colors and prominent grain patterns dance along the shelves, inviting you to run your fingertips over its smooth, lustrous surface. At the end of the day, a mahogany floating shelf isn't just functional; it's a work of art!
Mahogany Floating Shelves Offer Strong Versatility
When it comes to interior design, mahogany truly knows no bounds. This exquisite wood is able to be effortlessly intertwined with any interior design style to allow you to create a space perfectly reflective of your personal style. Whether you're looking for something classic, modern, or somewhere in between, mahogany can help you quickly achieve your desired look - allowing you to distinguish your style from the rest.
Mahogany Shelves Have Exceptional Resistance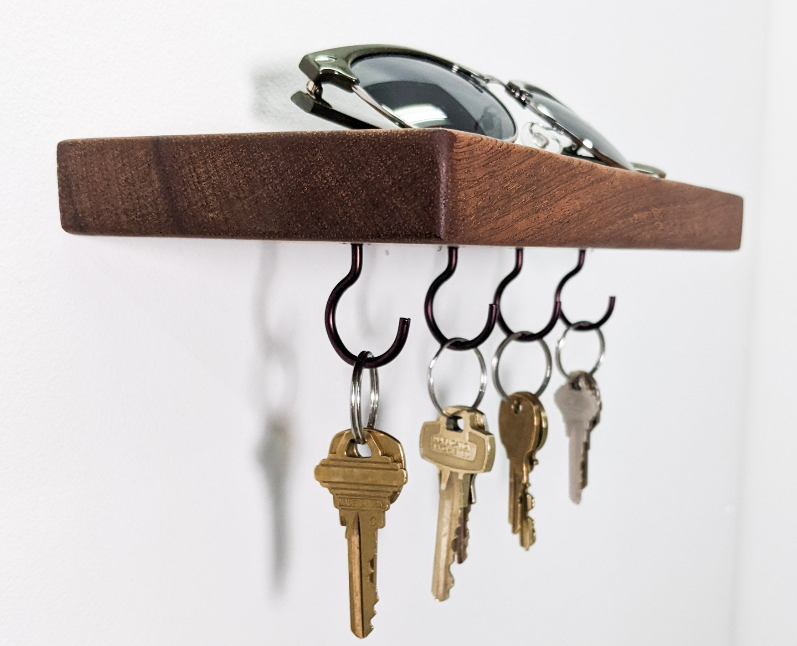 Mahogany wood possesses inherent useful properties that make it highly resilient against rot and mold. Much of its secrets lie in its natural oils that act as a protective barrier to keep moisture at bay while inhibiting the growth of rot-causing fungi. These oils are able to penetrate deep into the wood, allowing long-lasting protection and durability.
Further, the density of mahogany plays a crucial role in its resistance. This is because its dense grain structure acts as a physical barrier against moisture seeping in.
It's also worth mentioning that mahogany is very resistant to insect infection, making it even more desirable for locations where exposure to moisture is inevitable, i.e. the kitchen and bathroom.
If all of this wasn't enough, NookWoodworking applies a protective coat of high-quality varnish to every mahogany wall shelf and home good. This means that on the off chance, the dense grain or attractive oil allows a lick of moisture to slip in, the varnish will prevent it from doing any harm. So you can feel confident that your shelves will last a lifetime (or, more!).
Mahogany Shelves Are Sustainable and Environmentally Friendly
When harvested sustainably from well-managed forests mahogany wood can be both incredibly cost sustainable and environmentally friendly.
Why is mahogany so sustainable?
This is due partly to the tree's carbon sequestration. This means that mahogany trees are able to absorb carbon dioxide from the atmosphere during photosynthesis. Carbon sequestration is critical to mitigating climate change and slowing down the effects of global warming. Planting mahogany trees to harvest their wood is a great way to help the environment and ensure that the forests remain healthy for future generations. Another reason mahogany is so sustainable is due to how long it takes for trees in their natural habitat to reach maturity. Typically, mahogany trees will not produce wood until they are 50 years old. This means that harvesting sustainably grown mahogany from well-managed forests does not require cutting down large numbers of young trees, which would be detrimental to local ecosystems.
Purchase a Stylish and Functional Mahogany Floating Shelf at NookWoodworking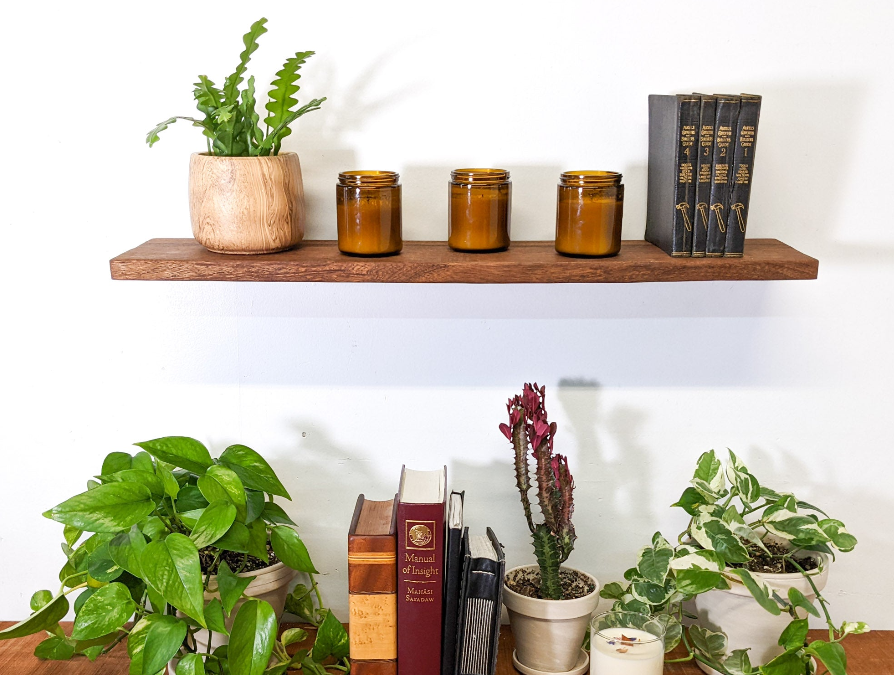 Now that you know why mahogany floating shelves are an attractive choice for your shelving needs why not consider purchasing your shelf from NookWoodworking. All of our distinctive shelves come with easy-mounting hardware for a seamless installation. Plus with free shipping throughout the contiguous United States and quality you can trust, it's no wonder our shelves are so popular.
Classic Mahogany Shelves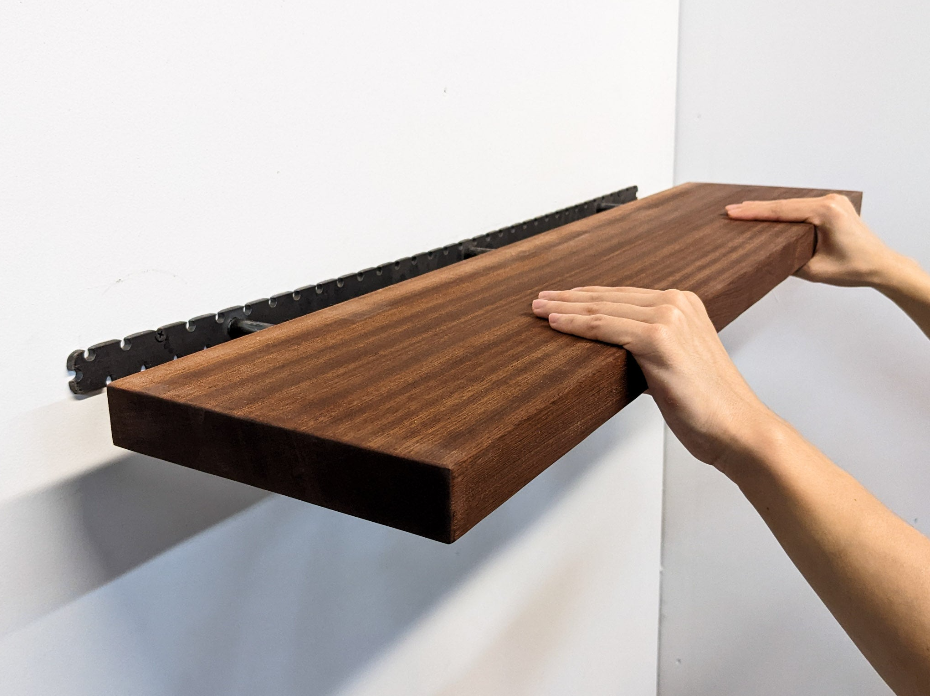 Our Classic Mahogany Floating Shelves offer a compelling look for any home, office, or workspace. With the perfect blend of elegance and functionality, these streamlined shelves are known and loved for their ability to seamlessly blend into any decor while still standing out as a show piece and focal point.
Their distinctive design, clean edges, and perfect proportions, effortlessly hold all of your treasured belongings. Plus, with their thick and sturdy base you can rest easy knowing that your mahogany shelf will stand the test of time.
NookWoodworking offers invisible bracket floating shelves and bracket-based shelves. These floating shelves are perfect for displaying art, books, collectibles, or anything else that you want to showcase. Because they're made of solid wood and have a lacquer finish, they look great in any home or office space. While the shelves with brackets instantly add a feeling of coziness to any room.
Functional Mahogany Floating Shelves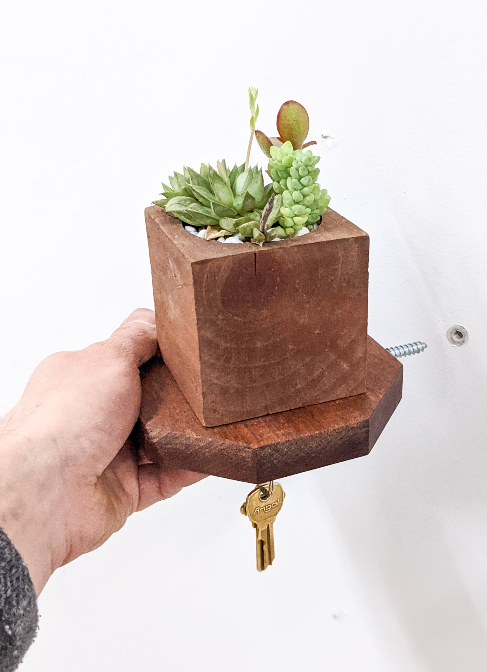 Looking for a shelf that is as functional as it is stylish? NookWoodworking's Functional Mahogany Floating Shelves are perfect for you. These unique floating shelves not only serve as a strong base for all of your beloved items, but they also help you organize television or electronic cords they can also easily help you locate your keys!
Our Floating Shelves with Cord Holes are the perfect solution for the technophile juggling too many pesky cords. Each meticulously designed shelf features an expertly drilled grommet hole, allowing a discreet passage for any and all electronic cords.
And, if you often find yourself wondering where your keys went then our Key Hook Shelves are perfect for you. Available in quirky geometric shapes, these shelves provide up to 9 high-quality key hooks for you to hang your keys. Plus, with easy installation, you can have this shelf up in no time at all allowing you to safeguard your keys in style.
Geometric Mahogany Floating Shelves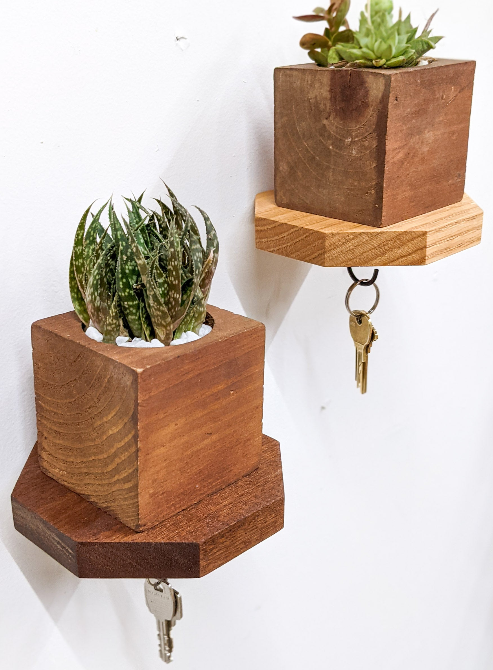 If you're looking to add even more flair to your walls then consider NookWoodworking's unique geometric floating shelves. Ranging in shapes from your standard rectangle to a sharp-looking triangle, these wall shelves add a bit more dimension to your wall and look great in both large and small spaces.
Built from quality materials, each shelf is finished with a luxurious stain that ensures longevity and further resistance to rot and mildew. Propagate your plants, hang your keys, or simply show-off your most prized possessions with NookWoodworking's stunning geometric shelves.
NookWoodworking Knows Mahogany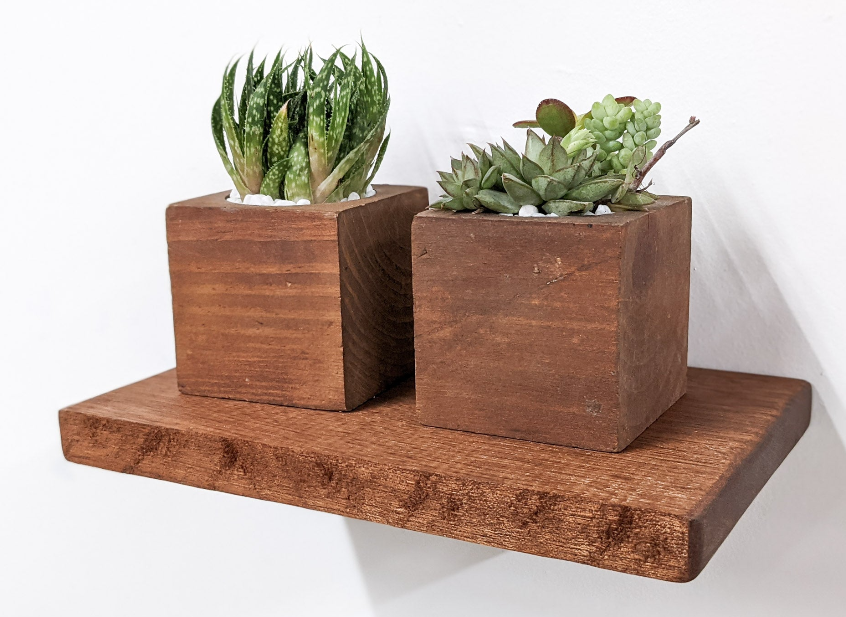 When you're looking for quality mahogany shelves that exude timeless charm and exceptional durability, NookWoodworking is the place to shop. With our extensive experience and passion for creating exquisite wooden furniture, NookWoodworking offers a commitment to providing only the highest quality products with unparalleled craftsmanship.
We only use premium mahogany wood and guarantee the endurance of our products, knowing that our shelves that will stand the test of time. Furthermore, with a variety of customization options available, NookWoodworking's mahogany shelves are tailored to suit individual preferences and cater to a range of needs. Choose NookWoodworking when you want to elevate your home furnishings with a touch of elegance and outstanding quality.