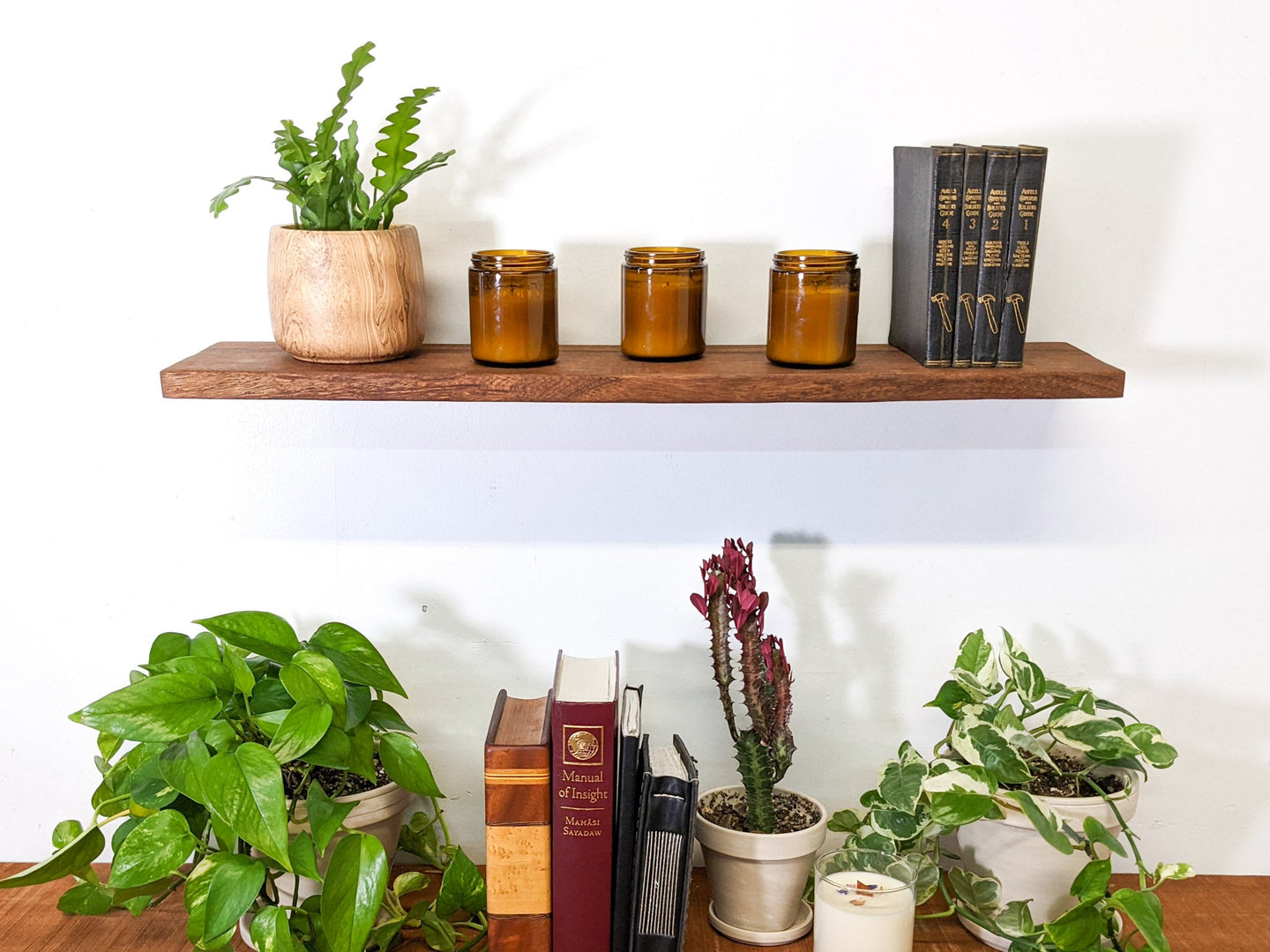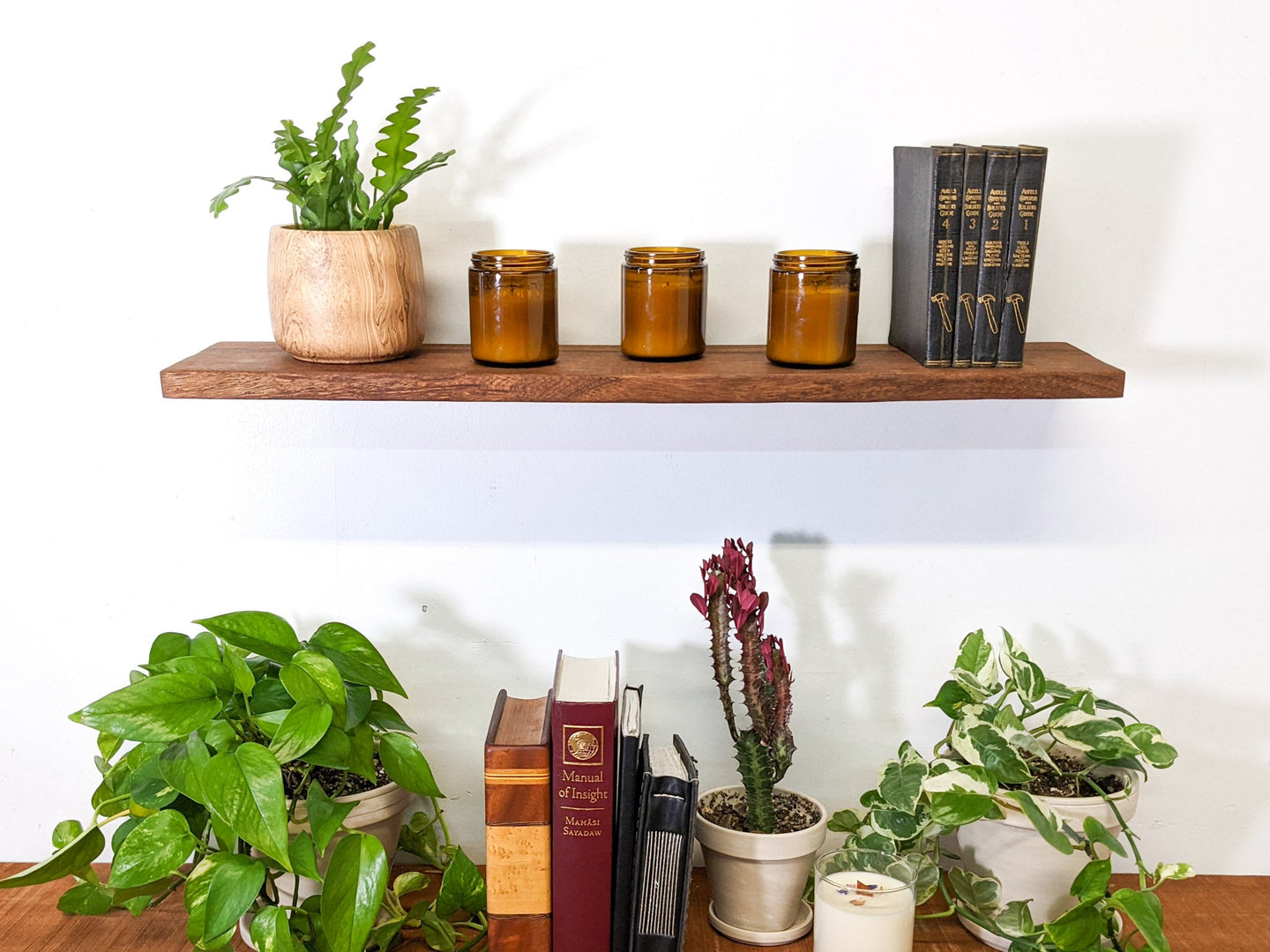 Regular price
$81.99
Sale price
$71.99
Unit price
per
Sale
Sold out
Free shipping in US

Find our medium to large floating wood shelves. Our premium, handcrafted, oak or mahogany floating shelves are easy to install and perfect for displaying your items.

Length: 24" to 36"
Depth/Width: 3" to 8"
Thickness: 7/8"

Recommended weight limit: ~40-70 lbs with drywall anchors, dependent on shelf size. The weight limit increases substantially when mounted in solid wood or studs.

Note: only shelf, anchor, and screws included in the purchase.
All orders ship free within the United States over a certain price point. Most orders require 1-2 weeks of processing time, as most orders are built to order. Orders usually arrive 3-5 days when shipped. Orders below that price point have a standard fee.

International orders have a standard charge. Most orders will arrive between 10-20 business days after 1-2 weeks of processing time.

See return & refund policy for details.
Share
View full details
About this piece
Our custom oak floating shelves in medium to large sizes add a touch of distinction to your home. Custom wooden shelves in the open shelving style offer laid-back refinement and provide an attractive option to display your most prized possessions. Expertly handcrafted in Brooklyn, NY by a bespoke team of woodworkers, our large to medium oak floating shelves have minimalistic and soft rounded edges and are finished with warm Danish oil to reveal the natural beauty of every whirl, knot, and loop in the high-quality oak wood grain. The medium to large floating shelves from NookWoodworking vary in size from 24 to 36 inches in length, 3 to 8 inches in depth, and are ⅞ inches thick. The durable medium to large floating shelves can easily be installed directly into drywall or studs for a clean hidden bracket look. 
The good-natured and warm feel of the wood makes it a great choice for floating wood shelves while its lasting strength ensures that come what may, your medium to large-sized bracketless shelves will stand the test of time. With free shipping and a quick lead time, NookWoodworking can help you decorate your walls and store your items in no time at all.
We absolutely love the shelves!!
Great quality and easy install!
Great quality! Thank you so much!
The shelf looks nice and is solid wood. The sizing is exactly what I needed - I just wanted a small shelf in my closet to set my phone or beverage on while changing. It was exactly as described. However, the keyways for the mounting brackets weren't cleanly routed so the brackets only fit in the exact position in which they were jammed in before shipping. This made installation harder because I had to chisel the keyways. Once mounted, to a stud on one side and drywall anchors on the other, the shelf wiggles enough that I'll probably replace it and use it somewhere else with external brackets.